NMC
Eight Days on, no water in four areas of Nagpur.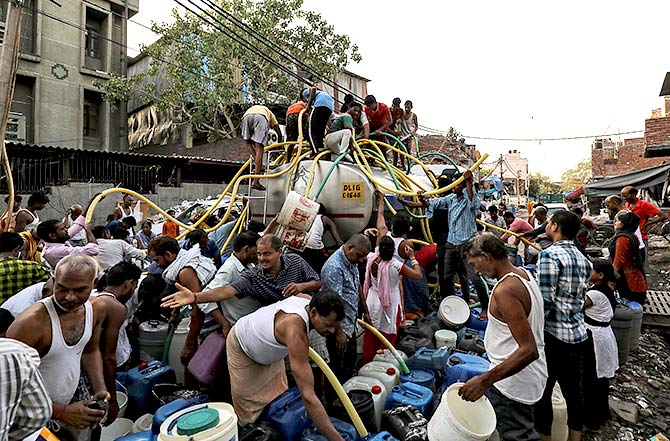 As from Wednesday water cut was implemented in four areas of West Nagpur
they are Patel Nagar, Bargaon, Shamshudin Layout and Gondtoli have not
received water from last 8 days since it is very near to Nagpur Municipal
Cooperation's water treatment plant from where almost where the 70% area
in Nagpur get water. Many areas did not get water after the shutdown was
implemented for a second time on Friday. Some of the areas got contaminated
supply, while some areas continued to get water at very low pressure. The
Nagpur Municipal cooperation has again introduced the new time table thrice
a week cut last Monday. There was no problem on Saturday; all the areas get
water supply and there were no major complaints said Chairman of the NMC
waterworks consultative committee Vijay Zalke. Dure to poor planning of
NMC's part led to no water supply for eight days in four areas in Ward no. 10
said Nitish Gwalbanshi, a Congress corporator from West Nagpur. He also
added the water distribution system has changed five months ago before that
from the last five years every area was getting enough water supplies. According to
him, before there were proper water supply and water used to come from
the main pipeline which actually brings water from treatment plants to the tank at
seminary hills. Now it was disconnected and supply starts from Ramdeobaba
overhead water tank. The work to change the household connection in four
currently affected areas was started but was not completed. The situation got
worst after the current supply system started. Gwalbanshi said "I met the NMC
officials along with a large number of aggrieved citizens, but there was no
result. OCW Staffers carried out the whole inspections but still now they are
not out with any solution.
People are fulfilling their requirements from adjoining areas". There were problems in four areas but they were solved on Saturday said NMC official from Mangalwari Zone. NMC has failed to implement the new water supply plan proper said Praful Gudadhe, South-West
Nagpur corporator. On Saturday there was no drop of water "Jaitawal,
Hiranwar layout, Zade layout, Ramabai Ambedkar Nagar, Ekmata Nagar and
adjoining area. There will be no water until Monday. We are all ready to
cooperate due to less rainfall but will not tolerate mismanagement. Unequal
distribution of water is also a major issue, he added. There were many
complaints about contaminated water supply as pipelines remain dry on Friday.
Sadar resident Shyamala Sanyal said residents got water which was yellowish
in colour and had a foul smell. The current situation is due to mismanagement
of NMC said congress city president Vikas Thakre, former MP Nana Patole and
Vishal Muttemwar in a press conference. A cut once in a week should be
implemented from February month in the way to save water. "OCW has
completely failed but is still given various benefit like Rs 450 crore one-time
settlement scheme", said Patole and Muttemwar.