Festival
Ganpati's you must visit in Nagpur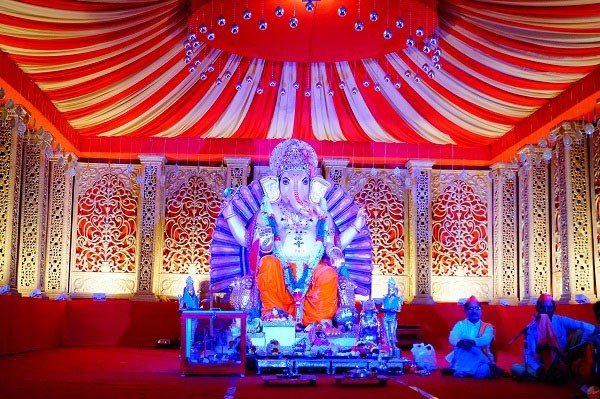 This Ganesh Chaturthi Nagpur is all set with a new moto to deliver a message to viewers for welfare of society with meaningful themes and decoration. This time its not only about lights, crackles and high decoration themes. This time this important festival has been used as a meaningful medium for social gain. Visit most popular Ganpati's of Our Orange City.
Vidharbh ka Raja Address- HB Town Nagpur President- Satish Chaturvedi
As its name suggests itself, its most popular and famous sarvajanik Ganpati of the city. Everyday day there are more than 3000 people in the queue for Darshan and for attending Aarti. The idol is almost 31feet tall. This event is organized by Vidarbha Mathadi Kamgaar Ganesh Utsav from last 4 years. But in very less time this event had got popular in Nagpur. On Mahaprasad nearly 1.75 people came here every year.
Vidharbh ka Raja
Address- Reshimbagh President- Deepak Jaiswal
Originally called Raja, this is the wealthiest idol of Lord Ganesha from all other. The Ganesh idol is decked with Gold and silver. This event is going from the last 20 years the special thing about this pandal is any five married couples can do HOM here in the evening for the peace and prosperity.
3.  Dharmpeth Ganesh Idol
President- Baba Maind
They always have unique Ganesh idol with a different message every year. Most of the times the best artist is called from different cities before 3-4 months of the festival. This event in Dharmpeth is from the last 57 years.
4.Dhantoli Ganesh Idol
President- Sanjit Jaiswal
This event is going from last 27 years. Shri Ashtavinayak Bahu Udeshiya Sanshtha always creates very different and unique idol OF Lord Ganesha every year. Every year their theme is to save nature generally.
5. Hilltop Ganpati
President- Prakash Gajbhiye
Every year the Ganesh idol here comes with a new message and with events. Decoration for the Ganesh Idol starts before 1-2 months.
6.Cotton Market
President – Suraj Bhante
From last 100 years, Shree Shankar Vilas Sarvajanik Ganesh Mandal are celebrating Ganesh Utsav at the centre of the city. This is the most visited place by peoples even Muslim families also visit this place for its decoration and the beauty of Ganesh Idol.
7.Tatya Tope Nagar
President- Girish Deshmukh Vice President- Karan Bhure
Their theme is always eco- friendly and is almost like Dagduseth in Pune. They have completed there for 42 years. The decoration of the Pandal is very eye-catching.
8.Bajaj Nagar
President- Anand Mathankar
Yuvak Ganesh Utsav Mandal of Bajaj Nagar organize Ganesh Utsav every year. Their theme is always related to the current affairs of the society. The decoration is very attractive.
9.   Jaripatka
President- Dr Rohit Afrani
Vice President- Deetesh Magnani
One of the most unique and popular Ganesh Utsav organized by Shree Ganesh Utsav Mandal by the name of Rudra Ganesh of Jaripatka from last 21 years. The event conducted by them during Utsav are always for the welfare of the society like blood donation, free medical checkup and the decoration is always amazing with a meaningful message.
10.   Sitabuldi
President- Pushpak Khapekar
Jay Hindi Bal Ganesh samaj, Modi no.2 comes up with a new idea every year. They are doing this event from the last 41 years. Every year a new theme new idea.